Gas Line Installation- Why You Should Hire A Plumber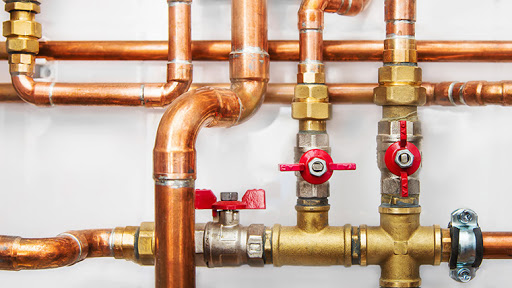 Many people do not realize that a plumber is the person you should call if you have a gas line issue. People think of plumbers only handling water issues. "If water runs through it, Plumbers Do it" However, plumbers are skilled professionals in a variety of plumbing home repair and replacement work. Their skills include running new gas lines for gas stove installations or outdoor grills, roughing in new gas lines for additions or remodels, and installing and repairing water heaters. Additionally, plumbers who also specialize in gas line installation and repair can couple your gas line job with other plumbing services you may need, including garbage disposal installation, sewer line repair, leaky faucets, toilet installation, mainline maintenance, and more, which saves you $.
Homeowners may need a new gas line installation or gas line repair for any number of reasons, such as a home repair or new home build. Upgrading the home to include gas appliances or eliminate old or corroded gas lines could also necessitate installing new gas lines. If you are a handy-type homeowner, you may be considering doing the work yourself. There are some vital reasons why you should reconsider.
Are Gas Lines a DIY project?
Gas line installation is not recommended to take on as a DIY project. The dangerous risks involved far outweigh the costs of hiring a professional plumbing company. Even if you are quite handy around the house with water lines, hooking up a water heater, ice maker, or dishwasher and feel you have a basic understanding of pipe and fittings this is a different breed of animal. Gas line installation requires more expertise and training than the average homeowner possesses( Not to put down the average Joe homeowner;)
Working with gas lines is vastly different from working with water lines. If you make an error hooking up water lines, the worst-case scenario might be a leak or low water pressure, which is not "dangerous". On the other hand, gas line installation mistakes can end up being fatal. A gas line installation plumber is properly trained, avoids mistakes, and does the work safely and correctly.
The Number One reason why you should call a professional plumber is safety – for yourself, your family, even your neighbors. If you wind up with a leaking gas line, they can cause explosions, fires, and health issues. You should only allow licensed professional plumbers to handle your gas line repairs and installations.
Carbon Monoxide : Guarding against carbon monoxide is fundamental to gas piping safety. Although natural gas is generally clean, if its burners are damaged or lack the proper airflow, it can produce carbon monoxide. If a gas pipe leak occurs in your home, this odorless, tasteless, and colorless gas may escape and inhibit your body's ability to transport oxygen correctly, causing your brain and organs to shut down. Even mild exposure to the gas can render most adults ill within minutes and can be fatal within hours.
Another reason is your ability (or inability) to handle any unforeseen problems that crop up. A well-trained, experienced plumber is qualified not only to complete your gas line job safely, but also to handle any difficulties that may arise, both during and after the work has been completed.
Other Things To Keep In Mind With Gas Line Installation
Permits & Legalities – Most gas line installation jobs require permits and inspections from the City they are done in. If your city requires a permit for a specific job, only a plumber licensed in that city will be able to pull the permit and request an inspection. If as a homeowner you choose to complete the work without one, if a permit is required by the city, the city could charge double permit fees or even require the line be removed and re-ran by a licensed plumber.
Codes – When a licensed, professional plumber completes your gas line installation, he will ensure that all gas lines are installed per city code, regardless of which city you are in. City codes are written to ensure safety and are updated with new technology. The technicians working with gas lines on a daily basis are knowledgeable on the most current safety practices and city codes, to ensure that your job is done correctly.
Insurance & Personal Liability – Working with gas pipes isn't complex, but there are real, valid reasons why plumbers have to pay high insurance premiums. The first question you should ask yourself before starting gas line installation is: "Will my homeowner's insurance pay for damages if something goes wrong because I did the work myself?"
AugerPros Plumbing: Gas Line Installation Plumber
Most homeowner's insurance policies DO NOT cover costs for damages from self-installed electrical or gas problems. Perhaps just as important is your own personal liability if a fire or explosion should occur. How would you feel if something you did cause your neighbor's house to be damaged or a small child playing nearby? Overall, the chance of consequences outweighs the cost of hiring an experienced plumber.
Auger Pros Plumbing specializes in all aspects of gas line installation and repair. Our highly skilled and trained plumbers are thorough and safe, gas line installation and service is our priority. We offer Free Estimates so give Us a Call Today! 214-206-6580